Flash is a family-owned manufacturer of high-tech nonwoven products for the private-label market. With more than 55 years of experience, we are experts in the development and production of the best performing disposable cleaning solutions for the professional market.
Our headquarters and production facilities are located in Oss (The Netherlands), from which we supply to more than 50 EMEA-countries. Our customers range from wholesalers to healthcare facilities, which we supply with only the best private label cleaning solutions. Thanks to our many years of experience gaining knowledge of the market, but also due to our long-term entrepreneurial strategy, we are the inventors of the products of tomorrow.
With customers located in more than 50 countries all over the world, we are internationally oriented. Business relations with our customers are always aimed for the long-term. Most of the times these exist for decades. Our core values are innovation, customer-oriented thinking, trustworthiness and flexibility.
Make an appointment to get to know us better.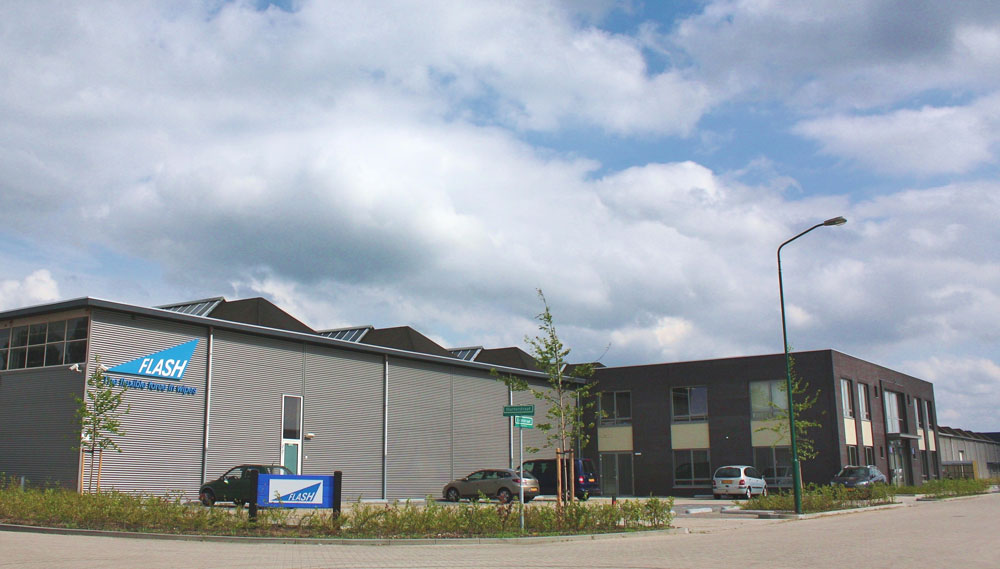 "Subscribe to
our newsletter

and be the first to read all about our new

products and innovations.

"
Start of Flash
Flash started manufacturing wiping cloths for end-users in the Netherlands and Belgium, based in the small Dutch town of Harmelen.
1964
Nuland
The company relocated to Nuland in the mid-1970s.
1975
Ruud van den Berge
Flash was taken over by Ruud van den Berge
1986
Nonwoven wiping cloths
Retail activities developed by Flash over the course of the years were hived off. Since then, Flash further specialised themselves in the production of nonwoven wiping cloths and cleaning cloths. Its main customers being wholesalers across Europe.
2002
Flash acquired Factron
Flash acquired Factron, located in Groot-Ammers. This expanded the range of pads for scrubbing machines and abrasive sponges.
2006
Production facility in Oss
Both companies merged in one large production facility in Oss. Factron was fully integrated into Flash BV, both physically and administratively.
2012
Driven by innovation
Flash aims to grow further, driven by innovation. In lieu of this company mission, we have set up a new production line in order to produce the disposable WET2GO mop. By doing so we cater to the needs of the market in regards to hygiene, the environment and ease of use. With many more innovations and improvements in-store; Flash's future is very bright.
Current day