Get to know Flash:
Private label

producer
PRODUCer OF
NONWOVEN CLEANING PRODUCTS
We don't just optimize and innovate our products. Our production process gets the exact same treatment. Tailor-made nonwoven mother rolls can be impregnated, perfumed, coloured, logo-printed, cut to size, folded and packed in-line. We can adapt these parameters to our customer's wishes. The combinations within Flash – producer of nonwoven cleaning products – are boundless.
As a producer of only the highest quality cleaning products, we pride ourselves on our modern production facility. Our high-speed packaging machines are placed in-line with high-speed production machines. This way, we ensure that the full process is as smooth as possible. The production facility in Oss, The Netherlands, is about 10.000m2 large and has a total of 20 production lines.
Our production is divided into three different divisions, based on our product categories.
"We invest time and money in tailormade and self-designed production machines at Flash."
As a producer, we are quite flexible in terms of what materials we can use. For the production of wipes and cleaning cloths, we have a choice of many different non-woven fabrics. The gsm of our nonwovens can vary from 14 g/m² up to 220 g/m² and can exist of many different fiber compositions. For example, oil-based, biobased, recyclable, recycled and renewable resources, such as polypropylene (PP), viscose (VI), polylactic acid (PLA), microfibers etc. Consequently, all our wipes can be fully customized, in order to meet our customer's requirements
During the production of our WET2GO® mops, we work with various layers of material. Generally speaking, our cleaning mops exists out of 3 layers, each with its own purpose: a cleaning layer, an absorption layer and a fixing layer. Hence, every layer is developed with great care and is made from a material best suited for the specific occasion. As a result, all our mops can be fully customized in order to meet our customer's requirements.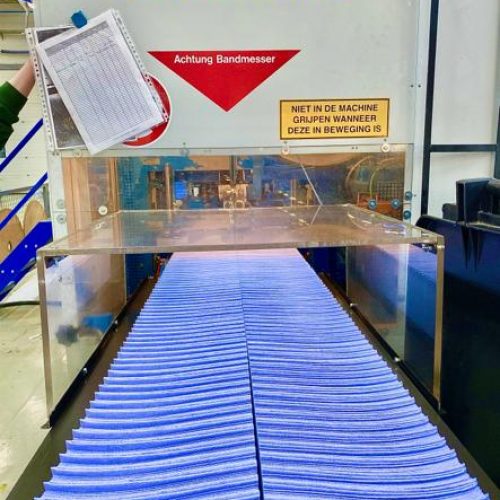 In addition, we also have multiple options for our abrasive cleaning products. Flash is producer of low speed and high-speed pads. These are all available in different sizes and colours. The material is made from strong long-lasting fibres, ensuring a product that will perform like new, even after extensive use. Our unique production process creates pad products made from the highest quality post-consumer recycled PET fibre. Our hand and floor polishing pads are also 100% Certifiably Green. All of this, combined with our proprietary resin binders, produces the Best Eco-Friendly pad in the industry today. Flash will help your company truly embrace green clean.
"Subscribe to
our newsletter

and be the first to read all about our new

products and innovations.

"
Besides producing nonwovens, Flash is also producer of tools and accessories. Pads, mops, and wipes are all important cleaning tools. However, certain accessories can be required in order to optimize your cleaning performance. In our opinion, the best cleaning performance cannot be achieved with just one good product. We believe the complete solution is a combination of the best product combined with the right tools and equipment. Therefore, we have developed a wide scale of professional tools and accessories. For example, the WET2GO® system, adapter pad and the WET2GO® preparation bag. We make sure our customers have access to the full cleaning solution. Not just a part of it.
Innovation and flexibility are very important to us. However, we have to balance this with another set of important values. After all, we are a producer of nonwoven cleaning products, and production lines always have certain standards and boundaries.  In order to distinguish ourselves from our competitors, we only have tailormade and self-designed production lines at Flash. Consequently, this allows us to produce and offer unique products which cannot be found anywhere else. In addition, we can fully optimize our production machines in order to cater to the needs of our customers. Flexibility AND production value combined.